About SERVPRO of Northwest Dallas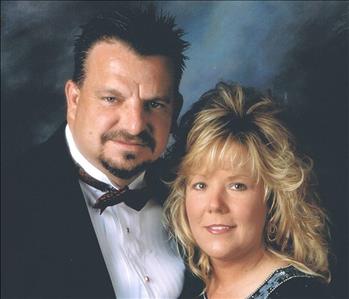 Richard & Grace Clark
Owners of SERVPRO of Northwest Dallas
As restoration specialists that have been serving Dallas County since 2001, our professionals offer mitigation, restoration, remediation, and abatement for damaged or threatened commercial and residential properties. With over 30 IICRC-certified technicians on our team, we have the personnel and the expertise to handle any size disaster or emergency that threatens Dallas or its surrounding communities.
Our focus on customer service has awarded us many accolades and accreditations over our years of service, many for customer satisfaction and success as a team. We understand that this recognition comes both from the hard work of our team in our 24/7 response to emergencies and disasters, but also from the area residents and business owners that trust us to restore their properties. We care greatly about Dallas and her communities because we live here too.
There is no disaster too great or too small for our team to handle. With over 1,500 units for drying and dehumidification and 25 service vehicles and production trailers, we have earned our spot among Texas's Large Loss Recovery teams. From our large generators to our desiccant and semi trailers, we own the equipment so we can respond 24/7 when disaster strikes. From catastrophic storms to large loss disasters that compromise commercial and residential properties throughout Dallas, our SERVRPO of Northwest Dallas rapid response team can help you recover quickly.
We know that the greatest treasure of Dallas County is its people, and as such, we support and sponsor charities and drives throughout the region as a way to give back and raise awareness for important causes. From our work with the American Red Cross and Operation Kindness to local efforts like Give a Kid a Coat and our sponsorship of the NCAA football SERVPRO First Responder Bowl Game here in Dallas, we work to raise awareness and support local charities.
Our experienced team has benefited from the leadership and commitment of our owners Richard & Grace Clark. They are members of many local organizations sharing collective knowledge and resources to help our commercial and residential crews improve, grow, and thrive.
No matter when disaster strikes, our team is always there with 24/7 emergency response.
Insurance and Payment Information
For a stress free claims process, SERVPRO works with your insurance to help manage the insurance process and paperwork.
We also accept the following credit cards for your convenience:





Certifications
AMRT - Applied Microbial Remediation Technician
ASD - Applied Structural Drying Technician
CCT - Carpet Cleaning Technician
CMT - Commercial Carpet Maintenance Technician
CRT - Color Repair Technician
ECTP - Employee Certification Training Program
FCT - Floor Care (Hard Surfaces) Technician
FSRT - Fire & Smoke Damage Restoration Technician
IICRC Certified Firm
OCT - Odor Control Technician
OSHA - 10-hour General and/or Construction Industry Training Program
OSHA - 30-hour General and/or Construction Industry Training Program
RRRP - Lead-Based Paint Activities and Renovation
RRT - Carpet Repair & Reinstallation Technician
SMT - Stone, Masonry and Ceramic Tile Cleaning Technician
UFT - Upholstery & Fabric Cleaning Technician
WRT - Water Damage Restoration Technician