We Have The Proper Equipment To Handle Water Damage In Dallas
8/21/2022 (Permalink)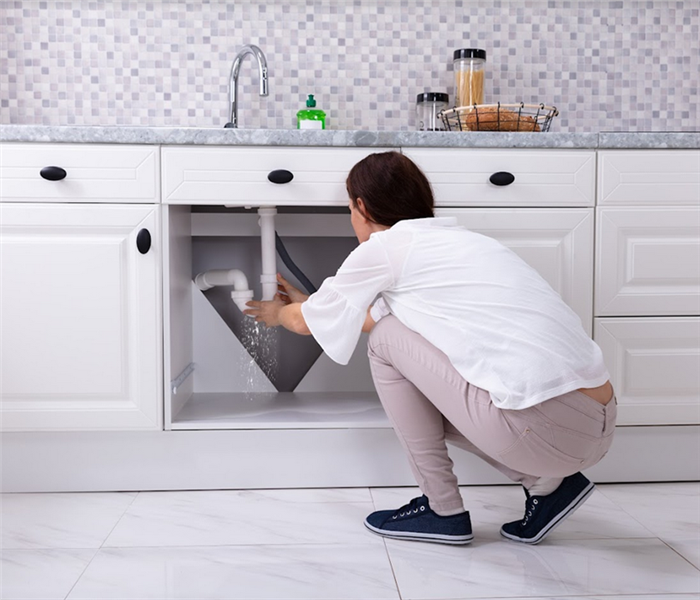 Water damage to cabinets can cause cascading effects if not dealt with urgently. Team SERVPRO is standing by 24/7 and ready to remediate.
Restoring Under Sink Cabinets and Fittings from Water Damage in your Dallas Home
Your kitchen and bathroom have hundreds, if not thousands, of gallons in water passing through them throughout the year. Sometimes, these wet rooms can sustain moisture-related damages. The cupboards beneath a sink are typical areas where small amounts of moisture from condensation or leaking can build up. As time passes, these damp spots can begin to degrade interior cabinets, stagnant, or cause rust issues. You may notice unpleasant odors when running water or yellow staining on shelves and beneath fittings.
Odor and discoloration inside fittings can be signs of long standing water damage issues in your Dallas home. Moisture attracts bacteria and other living organisms that can eat away at varnishes resulting in exposure of the wood beneath. At their most severe, microbial infestation can cause rotting in natural materials. Metal pipes, on the other hand, can attract rust, which slowly weakens your pipes and increases the chances of kitchen flooding. Your best bet in tackling these issues may be to bring in professional restoration services like SERVPRO to remedy the damages.
Careful inspection of the area affected is a vital part of ensuring that your water damage issue does not go on to change the structure of your home. The base of fittings can sometimes expose the subfloor or not have the same sealant as the floor. SERVPRO technicians can remove the physical elements of your cabinet to assess whether water seepage is going to be an issue. If there is a situation where removing the cabinets may be unnecessarily time-consuming, we can use infrared cameras or moisture sensors to assess whether water migration is occurring.
When it comes to natural materials that have a microbial infestation, the only solution is to remove the affected areas altogether. This procedure can help to prevent the spread of soiling or infestation to untainted materials. Once the removal and disposal of these items are complete, SERVPRO can disinfect the area or use antimicrobial treatments to create a lasting barrier. By sanding the salvageable elements of your cabinets and refinishing them, we can ensure that unaffected areas remain in good condition.
Long Standing water issues can result in escalating costs without early intervention. Contact SERVPRO of Northwest Dallas at (214) 361-7887 now.