How Do Specific Drying Principles Promote Efficient Cleanup of Dallas Hotels?
8/21/2022 (Permalink)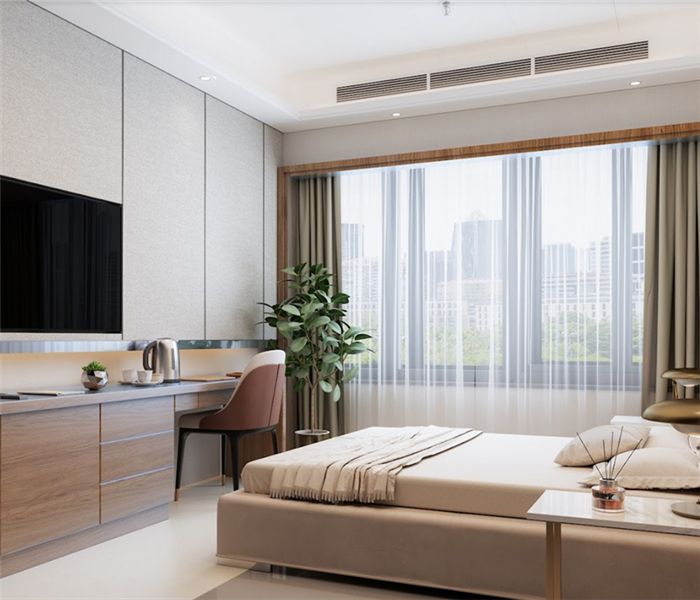 If your commercial space suffers from water damage, the professionals need to be brought in. Our team is standing by 24/7 ready to help.
Our restorers work to regulate specific drying principles for faster restoration of Dallas's accommodations.
Specific principles must be regulated and managed to promote the most efficient and complete drying and restoration possible. The most cost-efficient and rapid drying solutions balance three primary tenets: airflow, temperature, and humidity. With all of these being at optimal levels, the drying process can get completed faster, and guests can return to the damaged portions of the hotel.

Regulating Relative Humidity in Damaged Hotels

Humidity is one of the primary drying sciences that can make water cleanup in Naples' hotels challenging. Excessive moisture slows drying and forces the need for greater temperatures and airflow to overcome without dehumidification. Relative humidity can be regulated with:
Desiccant Dehumidifiers
Low-Grain Refrigerant Dehumidifiers
Air Movers
Promoting Healtheir Airflow in Guest Areas
Another critical drying principle that dictates the pace and thoroughness of evaporation in water-damaged accommodations is air movement throughout the work zone. With containment, regulating airflow through damp spaces is more direct, and machines like air movers can have a more significant impact.

The Benefits of Ideal Temperatures During Drying
The final drying principle that must get regulated for water removal and drying of hotel property is the temperature. The warmer surfaces are the faster molecules move and the quicker evaporation occurs. Cooler temperatures can hinder the drying process, making it ideal for our team to use portable heaters to regulate temperature to ideal conditions.
With hundreds of hotels and condominium complexes throughout Naples and its immediate areas, when threats like water damage threaten these structures, our SERVPRO of Northwest Dallas team is working on setting it right. We have efficient drying and cleanup devices and equipment to manage rapidly changing damage situations and make these water emergencies "Like it never even happened." Call us today at (214) 361-7887.