SERVPRO Provides Fire Damage Restoration in Dallas
11/14/2022 (Permalink)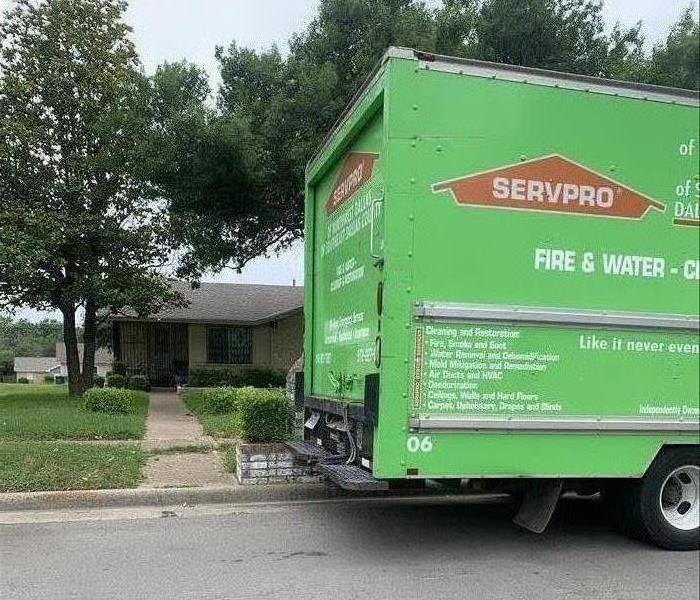 Fire damage restoration services by SERVPRO are second to none. We are ready at a moment's notice; call now!
Pretesting Smoke Residues Part of Routine SERVPRO Dallas Fire Damage Restoration
Fires in Dallas homes produce large amounts of smoke and residues, especially those that start in the kitchen. Smoke residues quickly cover everything in the immediate area and throughout the house. Firefighters or even the homeowner may douse the fire quickly before it causes significant structural damage; however, the odor and smoke residues linger in almost every room.
SERVPRO provides fire damage restoration services in Dallas and surrounding areas. We restore damage caused by large fires and those that produce lots of smoke and cause minimal structural damage. Many of our clients attempt to clean up the smoke residues themselves, only to cause the residues to smear and penetrate the surfaces of porous materials. Every fire has its unique signature regarding the residue and odor produced.
For example, grease fires produce an oily residue that easily smears when cleaning. Hot fires produce light, fluffy ash, which can be wiped off non-porous surfaces and vacuumed off others. Every fire is different, and the materials the residue lands on are also different. That's why
SERVPRO takes the time to identify the type of fire, smoke residue, and the best cleaning approach for each surface type before beginning. By pretesting, our technicians determine the kind of residue and utilize the best cleaning method applicable for the surface type, e.g., porous vs. non-porous, fabrics, flooring, carpets, clothing, etc.
SERVPRO provides complete services to our clients, regardless of the type or size of the fire, including:
Fire and smoke damage restoration
House fire clean up
Fire damage repair and reconstruction
We work closely with your insurance company adjuster and coordinate all activity on the site until your home is returned to its original condition "Like it Never Even Happened."
Call SERVPRO of Northwest Dallas for fire damage restoration services. We provide service to Dallas and nearby areas. We can help 24/7. Call (214) 361-7887.