What to Do with Debris Left in Your Dallas Home by Fire Damage
1/23/2023 (Permalink)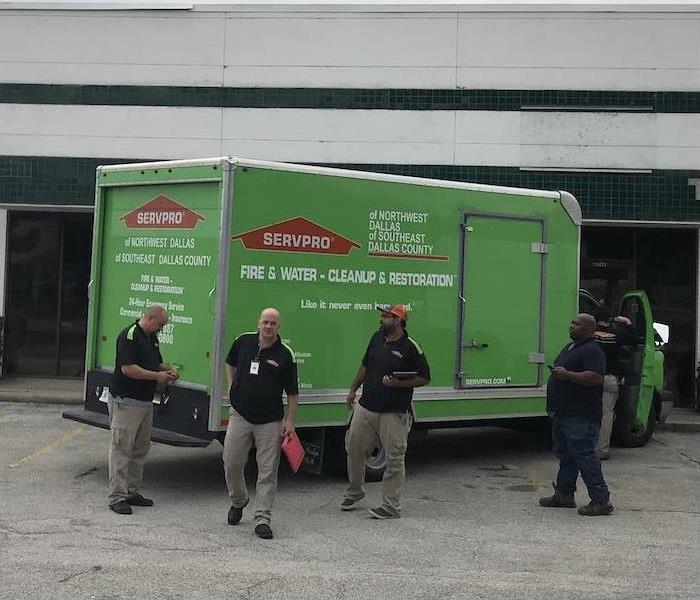 When you are faced with fire damage in Dallas, call our experts 24/7. We have the expertise and equipment to handle any damage, large or small.
What SERVPRO Does to Keep Dallas Properties Organized During Fire Restoration
There are things you are prepared to do when your Dallas home is affected by a fire incident, but others might catch you by surprise. Cleaning smoke residues from surfaces is an obvious task. However, dealing with debris may not be something you prioritize, especially in the early stages of fire restoration. The magnitude of the problem only hits you when the clutter interferes with your restoration efforts or poses hazards. Aggregation and safe storage of debris is necessary when dealing with fire damage.
Many of the house materials Dallas fire damage incidents affect are not entirely consumed, thus leaving chunks of unsightly or even hazardous materials. Even when there is significant combustion, fine debris such as soot and ash accumulate on surfaces. SERVPRO can provide the necessary resources to manage all the waste for safety and convenience.
What it takes to manage fire debris:
Identifying debris types
Convenient removal
Aggregation
Safe disposal
The waste materials produced during a fire have unique physical properties. Apart from the big chunks of materials and fine residues, other variations might include sharp objects or corrosive materials. Identifying what variations prevail in your property sets the rhythm of what you can do or avoid. Our SERVPRO technicians inspect the affected areas, tearing down wall and ceiling panel remnants. We also check floors and other flat surfaces for small pieces such as shattered glass. Significant temperature differences on glass materials cause fracturing. The hot areas expand while the colder ones contract or remain normal. The substantial stress caused by the expansion and contraction leads to fracturing.
Convenience When Removing Fire Debris
Safety should be the foremost aspect to think of when handling fire residues. It may seem unusual since dealing with the soiling may be the natural thing to prioritize. However, prioritizing safety becomes clear with risks such as inhaling the fine residues, stepping on sharp materials, or suffering head injuries from falling materials. Our SERVPRO crews help take care of the safety issues.
Safe removal of fire residues requires:
Proper personal protective equipment starts with items like rubber boots and heavy-duty gloves for safety when grabbing or stepping on materials. Respirators and goggles may be necessary when cleaning soot and other fine residues, especially when using a disruptive method such as compressed air or high-pressure water.
Like safety, collecting fire residues and debris requires appropriate equipment. One category of convenient tools our SERVPRO technicians use vacuums to collect fine debris such as soot from surfaces and crevices. Large specialized vacuums help remove insulation. Cutting tools are also essential for eliminating fire-damaged materials. Typical reasons for such devices include cutting away damaged materials if the incident only affects a limited area or reducing large materials like carpets, drywall, and ceiling panels into small pieces that can easily fit into trash receptacles.
Odor is also one of the remnants you must address after a fire. Although a scent is not tangible, it is made up of molecules that you must deal with for the smell of fire to dissipate. Our SERVPRO technicians use chemical agents or activated oxygen to neutralize odor molecules. Various delivery methods, including fogging chemical agents into the affected areas, ensure convenience.
SERVPRO of Northwest Dallas finds convenient solutions whenever a fire damage incident affects a property. You can reach us at (214) 361-7887. We're Faster To Any Size Disaster.